View Calendar
09-08-2021 - 09-08-2022 All day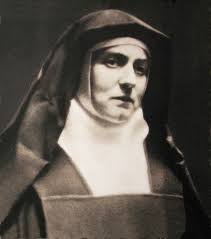 "We bow down before the testimony of the life and death of Edith Stein, an outstanding daughter of Israel and at the same time a daughter of the Carmelite Order, Sister Teresa Benedicta of the Cross, a personality who united within her rich life a dramatic synthesis of our century. It was the synthesis of a history full of deep wounds that are still hurting ... and also the synthesis of the full truth about man. All this came together in a single heart that remained restless and unfulfilled until it finally found rest in God." These were the words of Pope John Paul II when he beatified Edith Stein in Cologne on 1 May 1987.

Who was this woman?

Edith Stein was born in Breslau on 12 October 1891, the youngest of 11, as her family were celebrating Yom Kippur, that most important Jewish festival, the Feast of Atonement. "More than anything else, this helped make the youngest child very precious to her mother." Being born on this day was like a foreshadowing to Edith, a future Carmelite nun.

Edith's father, who ran a timber business, died when she had only just turned two. Her mother, a very devout, hard-working, strong-willed and truly wonderful woman, now had to fend for herself and to look after the family and their large business. However, she did not succeed in keeping up a living faith in her children. Edith lost her faith in God. "I consciously decided, of my own volition, to give up praying," she said.
https://carmelnigeria.org/wp-content/uploads/2018/10/transparent.png
0
0
queen
https://carmelnigeria.org/wp-content/uploads/2018/10/transparent.png
queen
2018-07-10 06:29:43
2021-06-07 02:49:10
St. Teresa Benedicta of the Cross (Edith Stein), Martyr