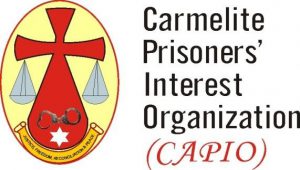 CAPIO
CAPIO is a not-for-profit, change-development organization of the Discalced Carmelite Order with particular interest in the justice sector, genuine prison reforms and general welfare of Prisoners in Nigeria.
br>
Brief History
Since the beginning of Carmelite presence in Nigeria, our communities have shown a lot of interest in the Prisons Apostolate. Already in 1989, our Community at Enugu was visiting the Enugu Maximum Security Prison located at the heart of the town. Later, our formation community at Nsukka also became actively involved with this important and timely apostolate.
According to late Fr. Michael Fitzgerald, (one of the first three Carmelites that came to Nigeria) "Carmelites were invited to Nigeria to share our heritage of spirituality, especially our tradition of prayer and contemplation, with the local church. From the beginning we felt this would be our main thrust, but we also needed a justice dimension to our life and ministry to make it credible and authentic. We felt this conviction strongly affirmed and endorsed by the message of the General Chapter of 1991, and subsequent statements made jointly by the Generals of the Discalced and Calced. In the light of this we saw our providential involvement in the prison as a godsend and an important "signs of the time" for us. We therefore felt a strong enthusiasm and commitment to the prison apostolate, which by 1991 we were aware could turn out to be a very far-reaching involvement".
It was therefore decided that we start a Human Rights organization, focusing specifically on the life, rights and needs of prisoners. We decided to call it CAPIO. (The name was the brainchild of Br. (Fr) Shane Kelleher). Thus, after the observance of the deplorable conditions of our prisons and prisoners, CAPIO was officially launched on the August 10, 1992 but registered as a non-profit organization in 2003.