WE BELIEVE IN THE RESURRECTION!
No end or term is fixed to a life well lived! (Wisdom 1:15) 
O death where is your sting? Death, where is your victory? As death is an experience common to all human beings, the Carmelite friars in Nigeria are no exception.  We point to five graves at the foot of the Chapel of the Transfiguration in Nsukka where the remains of our dead friars, Br Michael Owalabi, Fr Jude-Maria Ogbu, Br Stephen Isunuoya, Fr Richard Aor, Fr Charles Newell, and Fr. Ephraim Ojiekwe lie.  In Dublin, Ireland lie the remains of Fr Michael Fitzgerald.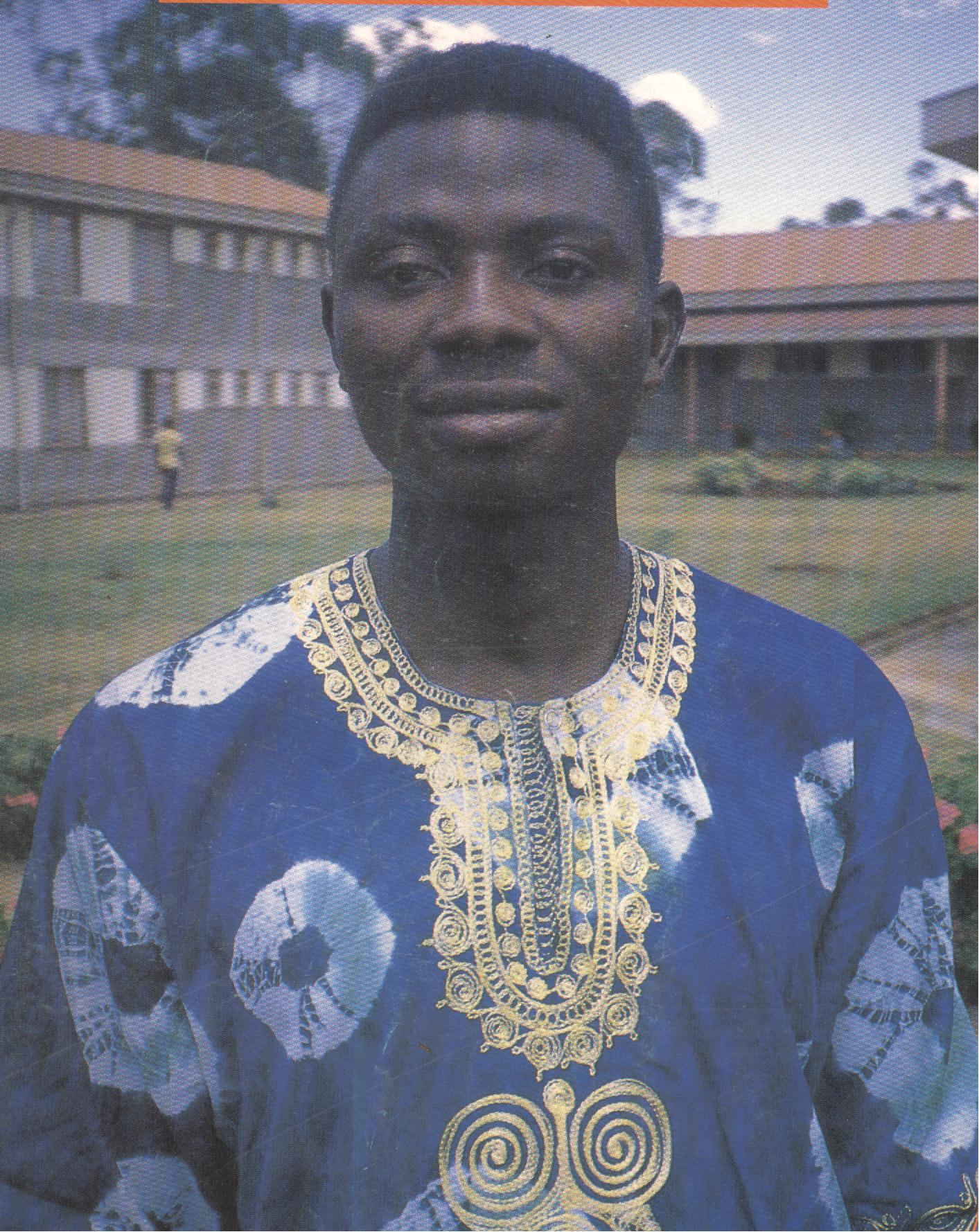 WE BELIEVE IN THE RESURRECTION!
†Br. Michael Ife Owolabi
The cold claws of death first gripped the young Irish Carmelite Mission in Nigeria in 1996. That was the year that Br. Michael Ife Owolabi, a young Carmelite richly blessed with a variety of talents and gifts, died. He was born on July 14, 1966 and hails from Igarra in Akoko-Edo, Edo State, Nigeria. He was the last child of his parents. Having done his primary and secondary education, he began, in 1987, a promising career with the Federal Ministry of Industries, Research and Statistics Division, Garki, Abuja. However, in 1990, he abandoned this and joined the Carmelites, making his first profession on July 31, 1991. He proceeded to Nairobi, Kenya where he did his study of Philosophy and almost concluded Theology. It was a few months after his solemn profession (July 16, 1996), with the goal of priestly ordination in sight, together with a very promising future ahead, that death came knocking! Michael tragically died in a ghastly car accident on Sunday November 3, 1996. May his soul rest in peace.
†Fr. Jude-Maria Ogbu
Death struck us again three years later – taking Fr. Jude-Maria Ogbu from us! He was born on August 17, 1960 in Akpugo in Nkanu-West LGA, Enugu State. Jude was by nature very gentle and caring. He showed his gentle and sensitive touch in dealing with the sick, the elderly and the needy when, after his secondary school, he worked as a nursing assistant in a few hospitals. He made his first contact with the Carmelites in 1989 and started his Postulancy on January 18, 1990. He made his first profession at Mount Carmel, Enugu on July 13, 1991 – a memorable day in Carmelite history as it saw the first Nigerian young men make their profession as Discalced Carmelites. He proceeded afterwards to Nairobi, Kenya where he studied Philosophy and Theology. He made his solemn profession on July 16, 1997 and was ordained on July 17, 1999 by Bishop Michael Eneja together with Frs Ephraim Ojiekwe and Andrew Unegbu. After ordination he was assigned to our first Carmelite parish in Nigeria – Mary the Queen, Ekpoma. He remained there until the tragic events of the evening of September 14, 2000 (Feast of the Exaltation of the Cross). Death came knocking when he was gunned down on the side of the road by armed robbers as he returned from Lagos to his community. His life which was so full of promise was so abruptly and brutally ended! He was buried on September 23, 2000. May his soul rest in peace.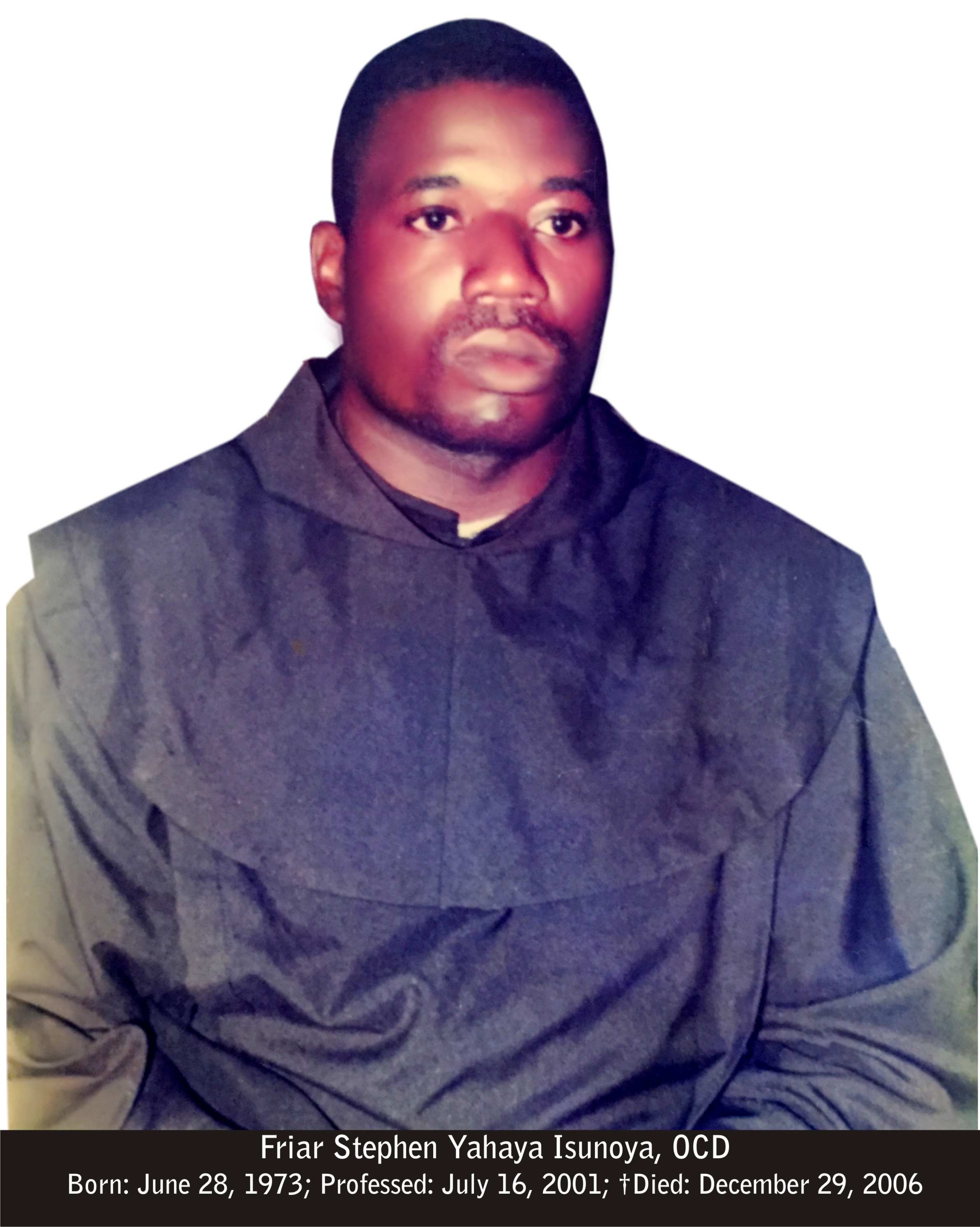 †Br. Stephen Yahaya Oyakhilome Isunuoya
Br. Stephen Yahaya Oyakhilome Isunuoya is another Nigerian Carmelite who passed on. He was born into a Muslim family on June 28, 1973 at Ihieube, Edo State. He was the sixth of nine children. Having converted to Christianity and obtained a Bachelor's degree in Industrial Chemistry at the Ambrose Ali University Ekpoma, he joined the Discalced Carmelite Order in June, 1999 making his simple profession of vows on July 16, 2001. He studied Philosophy at the Dominican Institute, Ibadan from 2001 to 2004. He made his solemn profession of vows on August 15, 2006 and started his study of Theology at the Dominican Institute after his year of Renewal/Integration. He conscientiously performed his studies to fulfill the academic requirements for the priesthood till the Christmas break of 2006. It was during this break that death came knocking. He was involved in a ghastly and fatal car accident on December 28 along Gwagwalada–Abuja Road. He was rushed to the hospital but gave up his spirit in the early hours of December 29, 2006. He was buried on Friday January 5, 2007. May his soul rest in peace.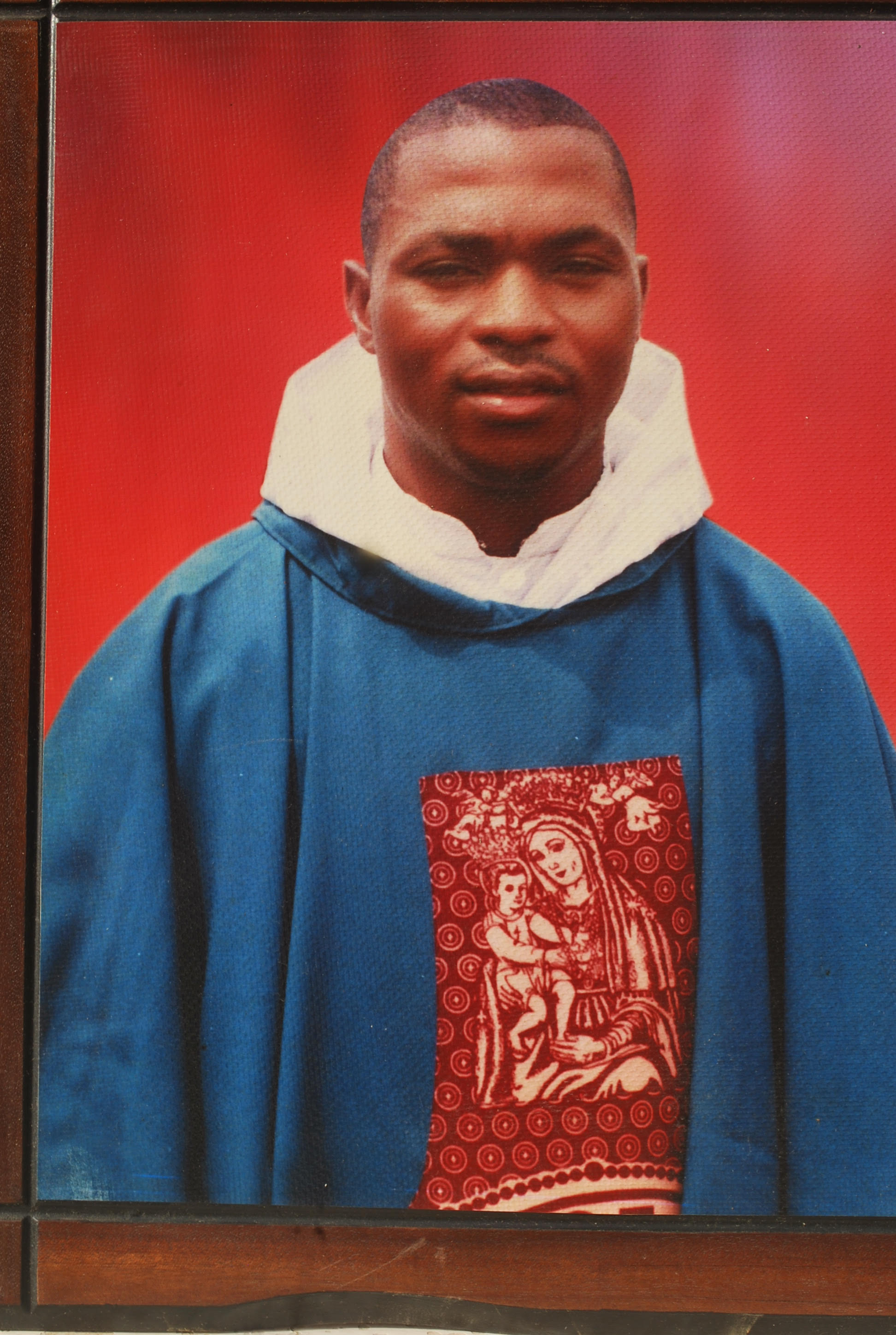 †Rev. Fr. Richard Yisa Aor
Once again, the cold claws of death snatched another brother from us. Rev. Fr. Richard Yisa Aor died of cancer of the liver on June 24, 2008. He was born on December 18, 1973 and hails from Tarka LGA of Benue State. He joined the Carmelites in June, 1996 and made his first profession of vows on July 16, 1998. Having concluded his study of Philosophy at the Spiritan School of Philosophy, Isienu, Nsukka, he proceeded to Tangaza College in Nairobi, Kenya where he studied Theology, concluding in December, 2004. Earlier on July 19, 2003, he committed himself definitively as a Carmelite through his solemn profession of vows. He was ordained priest on January 28, 2006 and worked in various communities afterwards. In January 2007, he became a member of St. John of the Cross Carmelite Community, Ibadan. It was while there that death came knocking! All medical expertise was to no avail. He passed on within the space of two months having been diagnosed with cancer. May his soul rest in peace.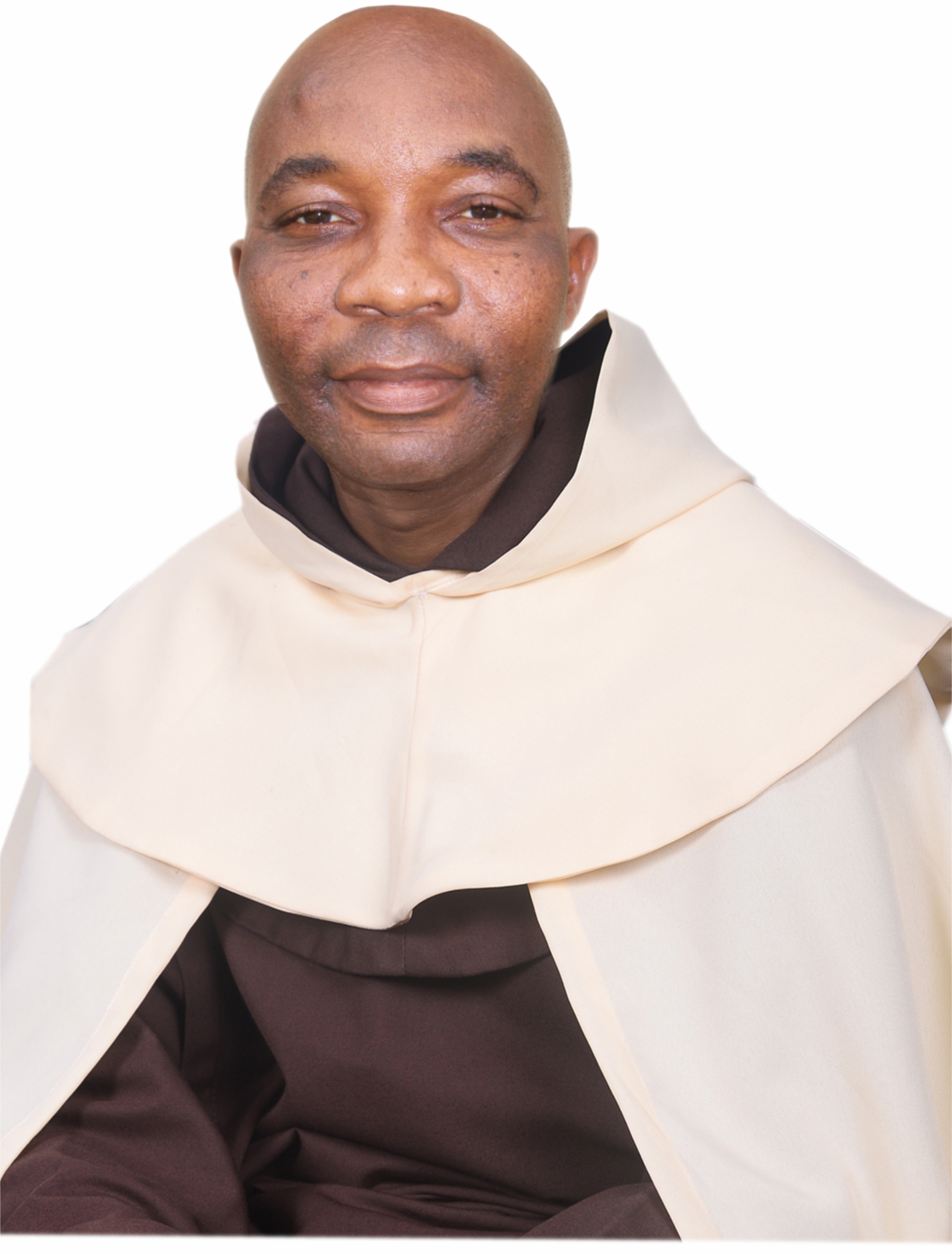 †Rev. Fr. Ephraim Chinedu Ojiekwe
† Fr Michael Fitzgerald
Fr Michael Fitzgerald was the third friar to arrive for the Nigerian Carmelite Mission. He was born in Broadford, Co. Limerick, Ireland on July 23, 1941. He joined the Carmelite Order in Loughrea in 1959 and made his First Profession there on September 8, 1960. After his Philosophy and Theology studies, he was ordained on December 17, 1966. He later obtained a Licentiate in Spiritual Theology at the Teresianum, Rome.
In 1973 he was asked to go to the Philippine Islands and there, he spent fifteen years. In 1988 Fr Philip Sainz de Baranda, Superior General of the Order, asked him to help set up a mission in Nigeria. Thus, in November 1988, he arrived Nigeria to join Frs Charles Newell and Tom Curran who had arrived earlier. Together with these, he worked tirelessly to develop our Nigerian Region and the present day success of the Vicariate owes a great deal to him. At various times, Fr Michael held different offices and posts as prior, formator, vocations director and eventually Regional Vicar.
Fr Michael had a great affection for the Carmelite nuns and preached retreats to many communities including to the nuns in South Africa and Cameroon. The nuns in Zing had a special place in his affection. He visited them frequently despite this involving an eight hour drive each way and spent a lot of time helping them establish their community. He was also very generous with his time to the nuns in Owerri and also the Secular Carmelites.
Fr Michael was an avid reader and loved specially to study the Scriptures. It was a real joy to listen to his homilies and talks explaining the Scriptures. Also, he was a keen sportsman and a voracious reader of sports literature. As well as gaelic sports, he took a great interest in many other sports and became very knowledgeable about all of them. He loved to run and play some hurling and did so even during the last few days of his life. Above all, he was a dedicated Carmelite, a good and faithful servant who died giving of his best.
In 2007, Fr Michael left Nigeria and returned to Ireland and joined the Avila community in Dublin. He was elected Prior of that community in May 2008. He was a tireless worker and was giving a directed retreat when God called him home – when death came knocking! He died quietly in his sleep on July 9, 2009. May he rest in peace.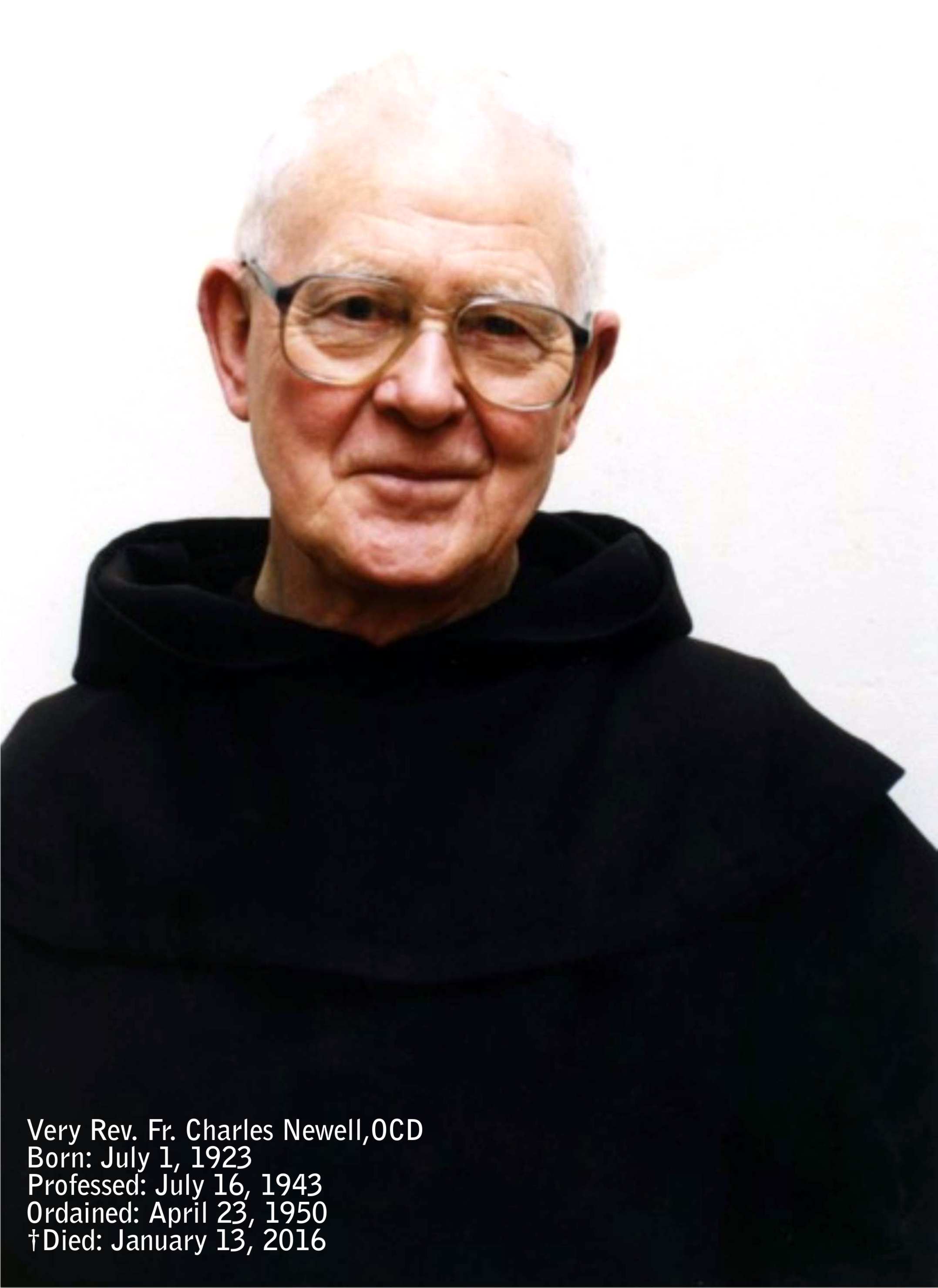 †Fr. Charles Newell, OCD
One dark night, fired with love's urgent longing…I went out unseen. These words, which introduce St. John of the Cross' Dark Night, summaries the life of our dear brother and father, whose heart refused to find solace in mundane ambitions and honours, who did not shrink from leaving the comfort of his homeland and sacrificially offered himself for God's service, whose heart, "fired with love's urgent longing," found joy in going out to the needy, giving to the point of prodigality. This is the man whose exemplary life will continue to inspire and edify us, his children – the Discalced Carmelites in Nigeria.
Hubert Joseph Newell was born on July 1, 1923 in Curracuggeen, Headford, Co Galway, Ireland. He received his primary education in the local Kilcoona National School and his secondary education at St. Jarlath's College, Tuam. While the young Hubert Joseph was at St. Jarlath's, a Carmelite Father, promoting vocations for the Order, came to have a talk with the students. Hubert Joseph, already aware of his call to the religious life, showed great interest in what the vocations promoter had to say; and, learning that devotion to Our Lady was a priority in the Carmelite Order, Hubert Joseph felt that Carmel was his place. He, typical of his Irish roots and like his beloved St. Thérèse of Lisieux, was also very interested in the missions.
Upon completing his studies at St. Jarlath's, Hubie (as he is fondly called by his family members) hastened to apply and was admitted into the Discalced Carmelite Novitiate in Loughrea. His novitiate was, however, interrupted when he fell victim to typhoid and was hospitalized. He had a lengthy convalescence. After his recovery, Hubie made his first religious profession on July 16, 1943, choosing the name, Friar Charles of Thérèse of the Child Jesus. He continued his formation to the priesthood, studying Philosophy in the Carmelite Seminary, Donnybrook, Dublin. However, Charles was not destined to remain in Dublin.
World War II saw the closure of many of Europe's seminaries, including that of the Carmelites in Rome. By September 2, 1945, the war had ended, enabling the seminaries to reopen. Carmelite authorities in Rome then asked each province to choose some of their students to continue their studies in Rome. Charles was chosen with Brother Finian Monahan from the Irish Province to travel to Rome in 1946. On April 23, 1950, both men, with their companions from around the world, were ordained priests by Venerable Pope Pius XII.
After a short stay in Rome following his ordination, Fr. Charles returned to Dublin where he taught Moral Theology to the students for five years in Gayfield. He also ministered to the sick. The plight of patients in what was known as "The Incurables" really touched him. On one occasion he arrived to find the gates locked and climbed the wall to administer the Sacraments.
He returned to Rome as the English speaking Secretary General of the Order and Prior of the Generalate Community. He served as Secretary General for many years and for many Fathers General, including Finian Monahan. He also taught Moral Theology at the Carmelite Pontifical Institute, Teresianum, Rome.
During his time in Rome, Fr. Charles met with Popes Pius XII, John XXIII, Paul VI, John Paul I and John Paul II, introducing many Irish priests to the Holy Fathers. He also had the pleasure of meeting with Mother Teresa of Calcutta in 1987. At the end of his stay in Rome at the age of 65, Fr. Charles embarked on his missionary calling. On April 6, 1988, he left the Generalate to become one of the founding fathers of the Discalced Carmelite Mission in Nigeria. He loved Nigeria, he loved her people and repeatedly insisted that he would want to be buried here. That is to say, he totally embraced the missionary life that he now began to live.
Fr. Charles spent 27 years in Nigeria during which he was the first Regional Superior of the Nigerian Carmel, formator, prior, the first Carmelite Parish Priest of Mary the Queen Parish, Ekpoma, Edo State. He was the first Prior of Mount Carmel Prayer Center, Enugu and the first Carmelite National Promoter of the Infant Jesus Devotion. He also served at Tabor Carmelite Community, Nsukka. A venerable pioneer, Fr. Charles is known here among the friars as Papa — and that is what he really was for us.
As the years went by, he got weak physically, but he kept taking part in the daily celebration of the Eucharist, even on the day he was rushed to the hospital unconscious. Fr. Charles' love and devotion to the Most Holy Eucharist is well known. Even at 90 he still loved to genuflect before the Blessed Sacrament and made sure his knee touched the floor.
Padre Carlo (as he was called in Rome) replicated in his daily life that self-giving which the Holy Eucharist speaks of. Papa was always willing to share what he had with the poor. He literally gave until he had nothing left; and many people whose lives he positively touched acknowledge their indebtedness to him. No wonder he founded the Prison Apostolate (which is today the Carmelite Prisoners' Interest Organization – CAPIO) to promote the welfare of prisoners.
Papa was a religious to the core. He greatly enjoyed the company of the brothers, even in his old age. Fr. Charles kept participating in community prayers with all the health challenges he endured: mobility, hearing, talking. He severally insisted on attending community meetings even if it meant dosing off intermittently there. Yes, he was that demanding on himself. Papa further enhanced fraternity in the community through his good sense of humour and by showing gratitude to anyone who showed him even the minutest of favours. Thanks a million and God bless you were frequently on his lips. It was also habitual for him to invoke God's blessings on those who took care of him in his old age. Through this he showed himself a true Moral Theologian, not just in the classroom but also in the practical events of his daily life.
Worthy of note is Fr. Charles' forgiving heart. A simple I am sorry was enough to make him forget whatever offence committed against him. He showed this same spirit in the confessional. A true confessor, Papa was always ready to reconcile sinners with God. In his old age, he always carried in his pocket the formula for absolution (for his memory was failing him), ready to administer the sacrament of Reconciliation to any penitent who approached him. He never finished the prayer of absolution without adding some other prayer or blessing suited for the penitent's need. He was indeed a bridge maker, for that is what a priest is.
Fr. Charles drew his nourishment from prayer. His Rosary never left his bed side and he never left his room without it. He could be seen praying it whenever he was not occupied with other things. His life of prayer confirmed the words of the Psalmist: mihi autem adherere Deo bonum est (But it is good for me to be near God — Ps. 73:28).
Indeed, he left this world to the great beyond to be with God as he peacefully rested in the Lord on January 13, 2016.
Papa, we cannot but thank God for the great gift you were to us. Your fatherliness will really be missed. But it would amount to greed if we asked God to keep you further. You deserve to rest from the toils and sufferings that marked your final years. And we are certain that the good Lord has granted you that. Therefore, we ask you never to abandon the garden you planted. With your beloved Thérèse, shower from the Father's bosom flowers of divine graces on the Carmel to which you gave roots in Nigeria. Adieu our beloved pioneer, brother and father, till we meet to part no more!
But the souls of the just are in the hand of the God' (Wisdom 3:1). For to us, God's faithful people, 'life is changed, not ended' (Preface Christian death). Eternal rest grant unto them, O Lord, and let your perpetual light shine upon them. May the souls of our deceased brothers and the souls of all the faithful departed through the mercy of God rest in peace – Amen.
But the souls of the just are in the hand of the God' (Wisdom 3:1).  For to us, God's faithful people, 'life is changed, not ended' (Preface Christian death).  Eternal rest grant unto them, O Lord, and let your perpetual light shine upon them.  May the souls of our deceased brothers and the souls of all the faithful departed through the mercy of God rest in peace – Amen.