View Calendar
07-06-2021 - 07-06-2022 All day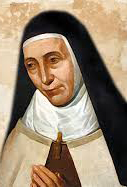 Anne Garcia Manzanas was born at Almendral, Castille, Spain on October 1st 1549. As a thirteen-year-old orphan, she tended her brothers' sheep. Devoted to the Passion of Christ, she wanted to consecrate her virginity to God, but feared she would be unable to overcome her brothers' opposition to her vocation.
One night, having fallen asleep with her rosary in her hands (which she recited daily), Anne experienced a vision of the Blessed Virgin Mary showing her the Discalced Carmelites' convent in Ávila, and pressing her to become a nun there. Then Christ appeared, seconding his Mother's words and pulling Anne by her rosary beads.  After waking, Anne resolved to become a Carmelite, and in 1572, she made her profession as a Carmelite in the hands of St. Teresa, at St. Joseph's, Avila. She was Secretary and close friend of Saint Teresa who died in her arms October 4th, 1582.
She was Prioress at Tours and Pontoise and founded the Carmelite house at Antwerp in 1612.  Bl. Anne died June 7th 1626 in Antwerp Belgium.  She was beatified in 1917 by Pope Benedict XV, and her canonization is pending.
https://carmelnigeria.org/wp-content/uploads/2018/10/transparent.png
0
0
queen
https://carmelnigeria.org/wp-content/uploads/2018/10/transparent.png
queen
2018-07-10 03:16:55
2021-06-07 06:51:01
Bl. Anne of St. Bartholomew, Virgin