View Calendar
16-08-2021 - 16-08-2022 All day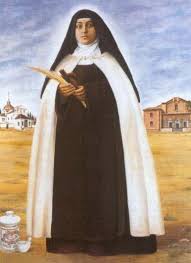 Blessed Maria Sagrario of St. Aloysius Gonzaga was born in   Lillo, Spain, January 8,1881, to Ricardo Moragas and Isabel Cantarero, the third of four children.
Following in her father's footsteps, she became a student of pharmacy, excelling in this field, and became one of the first women in Spain to become a pharmacist.  Although she had excellent prospects in pharmacy, and much ability, she eventually discerned a call to the religious life, and after some necessary delay to aid her family she was admitted as a postulant to the Carmel of St Anne and St Joseph in Madrid, in 1915. She was solemnly professed on the Feast of the Epiphany, January 6th, 1920.
She became prioress of her community in 1927, and novice-mistress in 1930. She frequently told her novices of her desire to be a martyr. Just before the outbreak of the Spanish Civil war, with its corresponding wave of virulent religious persecutions, she was elected prioress for the second time on 1 July 1936.   On July 20th of that same year, the convent was attacked by a mob. Mother Maria Sagraria spirited her sisters to safety and sought shelter with one of them at the  home of that sister's parents.  She was arrested, along with the other sister, on August 14th.  Surviving testimony well documents her serenity and abandonment to God's will.  Under interrogation she staunchly refused to betray anyone, and was executed by being shot on the following day, August 15th, the Feast of the Assumption of the Blessed Virgin Mary.
https://carmelnigeria.org/wp-content/uploads/2018/10/transparent.png
0
0
queen
https://carmelnigeria.org/wp-content/uploads/2018/10/transparent.png
queen
2018-07-10 06:39:26
2021-06-07 02:48:23
Bl. Maria Sagrario of St. Aloysius Gonzaga, Virgin and Martyr